By Varun Kacholia, Engineering Manager, and Minwen Ji, Software Engineer
The goal of News Feed is to show the right content to the right people at the right time whether it's from a close friend or a news source halfway across the world. In the last year, more people found news on Facebook than ever before. In fact, as reported in October, average referral traffic from Facebook to media sites has increased by over 170% – almost tripled – in the past year. Today's update to News Feed ranking recognizes that people want to see more relevant news and what their friends have to say about it.
More relevant articles in Feed
People use Facebook to share and connect, including staying current on the latest news, whether it's about their favorite celebrity or what's happening in the world. We've noticed that people enjoy seeing articles on Facebook, and so we're now paying closer attention to what makes for high quality content, and how often articles are clicked on from News Feed on mobile. What this means is that you may start to notice links to articles a little more often (particularly on mobile).
Why are we doing this? Our surveys show that on average people prefer links to high quality articles about current events, their favorite sports team or shared interests, to the latest meme. Starting soon, we'll be doing a better job of distinguishing between a high quality article on a website versus a meme photo hosted somewhere other than Facebook when people click on those stories on mobile. This means that high quality articles you or others read may show up a bit more prominently in your News Feed, and meme photos may show up a bit less prominently.
To complement people's interest in articles, we recently began looking at ways to show people additional articles similar to ones they had just read. Soon, after you click on a link to an article, you may see up to three related articles directly below the News Feed post to help you discover more content you may find interesting.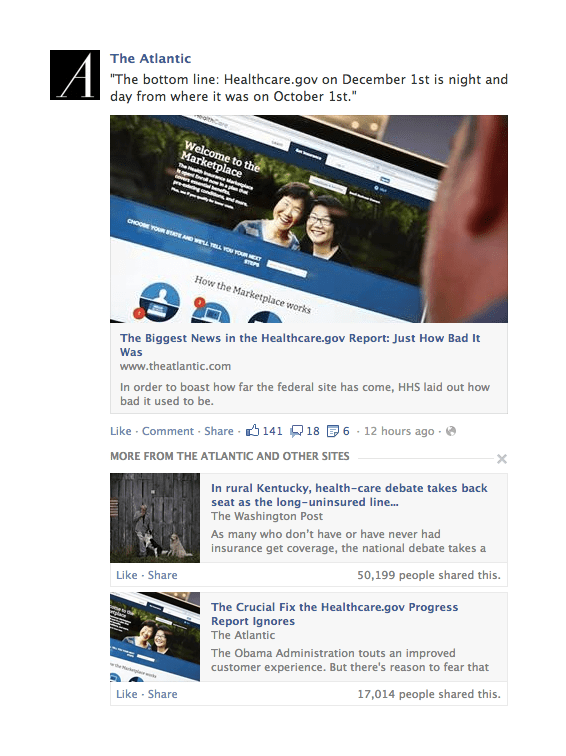 Comment Stories
While trying to show more articles people want to read, we also don't want people to miss the conversations among their friends. So we're updating bumping to highlight stories with new comments. After people read a story, they are unlikely to go back and find that story again to see what their friends were saying about it, and it wouldn't bump up in News Feed. With this update stories will occasionally resurface that have new comments from friends.
As a result, people may start seeing a few more stories returning to their feed with new comments highlighted. Our testing has shown that doing this in moderation for just a small number of stories can lead to more conversations between people and their friends on all types of content.
We'll continue to keep you posted on the updates we make in response to people's feedback. Stay tuned for more.