'Anchorman' stars read the "Facebook News," tennis pro Andy Murray wins a major award, and singer Michael Bublé gets fans involved in his annual, TV Christmas special. Celebrities, athletes and other public figures are joining the conversation on Facebook. Check back here each week for a few standout posts.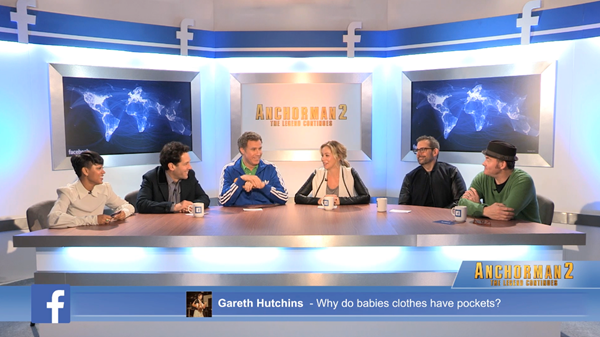 The 'Anchorman' cast reporting on the most-talked-about topics on Facebook in 2013, and answering fan questions in this exclusive video.
Singer John Mayer posing with Will Ferrell and Katy Perry on the set of ABC's "Good Morning America."
Professional tennis player Andy Murray posting this photo to Facebook exclusively after winning the BBC's "Sports Personality of the Year" award.
KISS frontman Paul Stanley posing with ZZ Top guitarist Billy Gibbons after a recent performance.
Retired heavyweight boxer Mike Tyson offering some words of wisdom.
Crooner Michael Bublé engaging with fans ahead of his Christmas special and using a custom hashtag.
Conservative talk show personality Glenn Beck sharing about his gift exchange with Fox News host Sean Hannity.
Strong safety Troy Polamalu hosting his first Facebook Q&A with fans on the Pittsburgh Steelers official Facebook Page.
Actor Joseph Gordon-Levitt announcing that he will be working on a movie adaptation of Neil Gaiman's 'The Sandman' comic.
Singer Victoria Justice hosting a Facebook Q&A with fans, thanking them for 10 million Likes.
Spanish footballer and Arsenal winger Santi Cazorla playing "Santi Claus" in this holiday video posted exclusively to Facebook.
Selena Gomez posting in honor of friend and fellow actress Ashley Benson's birthday.
By Alex Walker, Consumer Content Manager and Bree Nguyen, Partnerships Manager