Today we're starting to roll out a new feature called Donate that lets people contribute directly to nonprofits through Facebook. The Donate feature will appear beside Posts in News Feed shared by participating nonprofits and at the top of their Facebook Pages. When people click "Donate Now" they can choose the amount, enter their payment information, and immediately donate to that cause. They also have the option to share the nonprofit's post with their friends. We hope this will help increase donations as people encourage their friends to donate to the causes that are important to them.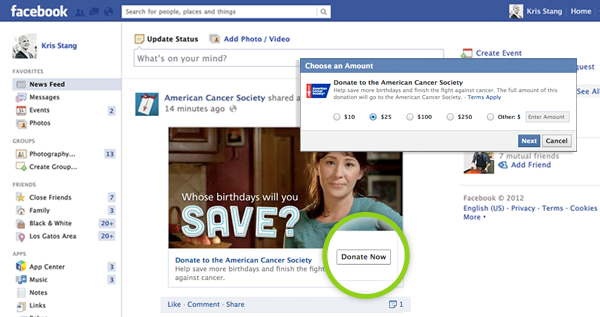 In times of disaster or crisis, people turn to Facebook to check on loved ones, get updates, and to learn how they can help. In November 2013, in the wake of Typhoon Haiyan, we partnered with the International Federation of Red Cross to let people donate directly to the Red Cross's relief efforts in the Philippines. After seeing the generosity of people around the world toward this effort, we've been inspired to help everyone donate, at any time, to the organizations they care about most.
Donate also gives nonprofits an easier way to reach out and ask for help, both to support their everyday mission and in the wake of major disasters. And, with a community of over one billion people on Facebook, every local cause can become a global one — and every global cause can become a personal movement.
As we developed this feature, we partnered with a few nonprofits and will make it available to more organizations soon. Any nonprofit group that is interested in tapping into this new feature on Facebook can fill out the Donate interest form in the Facebook Help Center.
Anyone who wants to make a donation to any of the following nonprofit organizations can visit their Facebook Page and start giving today.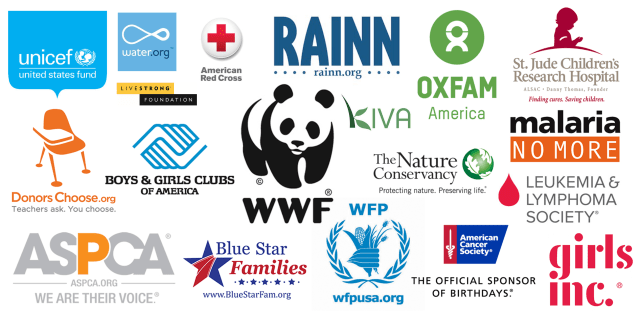 Oxfam America
www.facebook.com/oxfamamerica
Donors Choose
www.facebook.com/DonorsChoose
LIVESTRONG Foundation
www.facebook.com/livestrong
Leukemia & Lymphoma Society
www.facebook.com/LLSforacure
Water.org
www.facebook.com/water
The Nature Conservancy
www.facebook.com/thenatureconservancy
Malaria No More
www.facebook.com/malarianomore
Girls Inc.
www.facebook.com/pages/Girls-Inc
World Wildlife Fund
www.facebook.com/worldwildlifefund
Boys & Girls Clubs of America
www.facebook.com/bgca.clubs
ASPCA
www.facebook.com/aspca
RAINN
www.facebook.com/RAINN01
St. Jude Children's Research Hospital
www.facebook.com/stjude
American Cancer Society
www.facebook.com/AmericanCancerSociety
Blue Star Families
www.facebook.com/BlueStarFamilies
UNICEF
www.facebook.com/UNICEF-USA
Kiva
https://www.facebook.com/kiva
United Nations World Food Programme
www.facebook.com/WorldFoodProgrammeUsa
The Red Cross
www.facebook.com/redcross