Hunger Games stars head to Facebook HQ for a Q&A with fans, and release the first 'Catching Fire' clip exclusively on Facebook. Britney Spears debuts her latest single. British tennis player Andy Murray gives fans a sneak peak of his new book. Country stars share behind-the-scenes photos from the 2013 Country Music Awards. And rapper Eminem engages in a lively Q&A with Facebook fans. Celebrities, athletes and other public figures are joining the conversation on Facebook. Check back here each week for a few standout posts: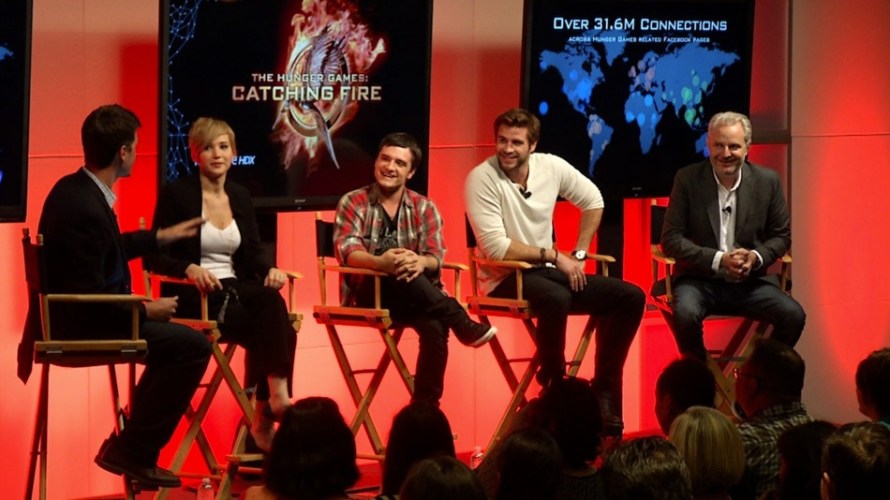 Co-stars Jennifer Lawrence, Josh Hutcherson, Liam Hemsworth and The Hunger Games: Catching Fire director Francis Lawrence appearing at Facebook HQ on Wednesday for a lively panel discussion.
The first clip of the movie was unveiled exclusively on The Hunger Games Facebook Page.
Britney Spears debuting her new single, "Perfume."
George Strait posting about a big win at Wednesday night's 2013 Country Music Awards.
Rapper Eminem chatting with Facebook fans during a live Q&A session.
Yao Ming sharing this photo with fellow player and NBA star Kobe Bryant.
Cher reminiscing about her late husband Sonny Bono in an intimate Q&A with Facebook fans.
British tennis star Andy Murray releasing an exclusive excerpt of his new book only on Facebook.
Singer Carrie Underwood thanking 2013 Country Music Awards co-host Brad Paisley for sending her flowers.
Paisely sharing behind-the-scenes photos from the event, including this one with the cast of "Duck Dynasty."
Actor Verne Troyer posting a video to let fans know they will be hearing from him more often.
Carolina Panthers running back DeAngelo Williams responding to a fan in a heartwarming way upon learning where one of his gloves ended up after Sunday's game.
Reigning Miss Universe Olivia Culpo chatting with fans during a Facebook Q&A ahead of the 2013 Miss Universe Pageant set for November 9 in Moscow.
Usher giving a shout-out to electronic duo Empire of the Sun in this Facebook post.
Country musician Jake Owen posing with actress Lucy Hale backstage at the 2013 Country Music Awards.
By Alex Walker, Consumer Content Manager and Bree Nguyen, Partnerships Manager