The Boston Red Sox defeated the St. Louis Cardinals 6-1 at Fenway Park in Boston on Wednesday night to win Game 6 of the World Series and clinch Major League Baseball's 2013 championship title. Boston also dominated the conversation on Facebook, where 11 million people generated more than 32 million interactions on the social media platform during the entire 2013 World Series.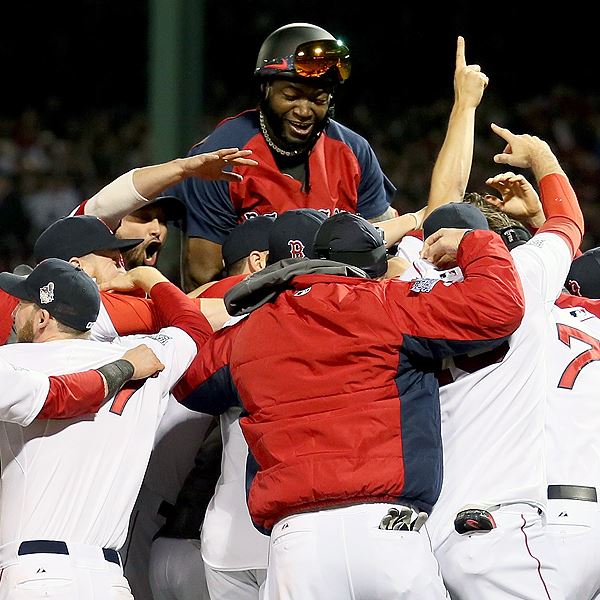 World Series MVP David Ortiz is hoisted by his Red Sox teammates. Major League Baseball posted this photo with the hashtag #MVPapi

The Red Sox outbuzzed the Cardinals 62% to 38% in terms of Facebook chatter, with men doing most of the talking throughout the Series. Here are the Top 5 Demos:
Men 25-34
Men 35-44
Men 18-24
Men 45-54
Women 25-34
Where the fans are: Red Sox and Cardinals "Likes" state-by-state
The Red Sox's home state of Massachusetts topped the list of states with the biggest buzz. Missouri, home to the Cardinals, was second on the list. Six out of the top 10 states buzzing about the 2013 World Series on Facebook are all in the northeastern United States. Here's the list:
Massachusetts
Missouri
California
Illinois
New York
Florida
New Jersey
Pennsylvania
Connecticut
New Hampshire
2013 World Series MVP David Ortiz
Boston first baseman and designated hitter David Ortiz was named MVP of the Series, and was by far the most-talked-about player on Facebook. Ortiz, aka Big Papi, received four times the buzz than any other individual player. Eight out of the top 10 most-buzzed-about players play for Boston. Here's the list:
David Ortiz (DH/1B, Boston)
David Ross (C, Boston)
Jon Lester (P, Boston)
Carlos Beltran (OF, St. Louis)
Will Middlebrooks (3B, Boston)
Jonny Gomes (OF, Boston)
Michael Wacha (P, St. Louis)
Dustin Pedroia (2B, Boston)
Mike Napoli (1B, Boston)
Steven Drew (SS, Boston)
Celebrities and other public figures posted about the Red Sox win on Wednesday night, including talk show host Jimmy Fallon and actor Josh Duhamel. Comedians Dane Cook and Denis Leary posted pictures from Fenway Park, as did country music star Kenny Chesney.
By Alex Walker, Facebook Consumer Content Manager, and Robert D'Onofrio, Facebook Data Editor