"Pretty Little Liars" comes to Facebook Live, Boston and St. Louis gear up for the World Series, author John Grisham hosts a Q&A with Facebook fans, and Will Ferrell shares the latest trailer for "Anchorman 2." You can find it all on Facebook, so be sure to check back here each week for standout posts by celebrities, athletes and other public figures.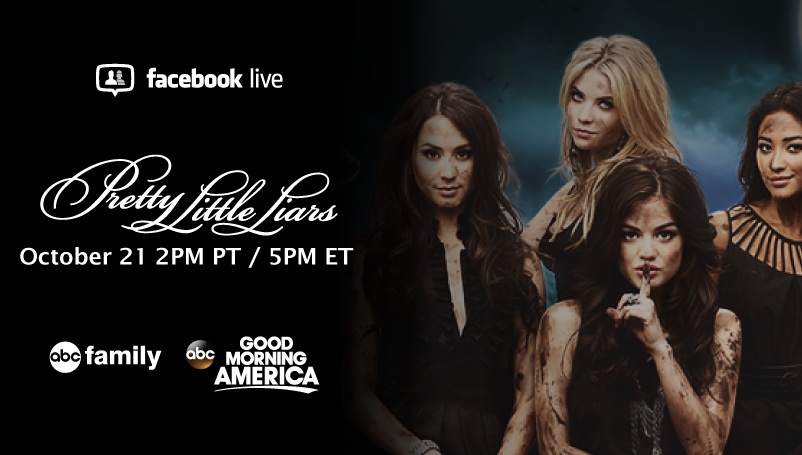 "Pretty Little Liars" star Shay Mitchell hosting a #PLLayWithShay party on her Facebook Page. It was a big week for the cast after participating in their first Facebook Live, and reeling from a surprising Halloween episode on Tuesday night.
St. Louis Cardinals revving up the team's Facebook fan base ahead of the World Series, and promoting the hashtags #SoAlive and #PostCards.
Boston Red Sox posting a music video to celebrate the team's post-season success, and its fans' "Boston beards."
Singer Britney Spears calling out manager Larry Rudolph for cat-napping in these behind-the-scenes photos.
Actress Nicole Kidman showing off her stunt work for the upcoming "Paddington" movie.
Sports Illustrated swimsuit model Marisa Miller sharing a new picture of son Gavin Lee.
Author John Grisham hosting a Facebook Q&A with fans about his new book "Sycamore Row."
NBA great Magic Johnson gearing up for NBA Tip-Off 2013.
Austin Mahone telling fans his tour is postponed after the singer was hospitalized for a blood clot.
Newark Mayor and U.S. Senator-Elect Cory Booker presiding over same-sex marriages in New Jersey.
Actor and comedian Will Ferrell sharing the latest "Anchorman 2" trailer.
Martha Stewart hosting a Facebook Q&A with fans about her new book.
Singer Kelly Clarkson posting wedding photos after the singer tied the knot with fiance Brandon Blackstock.
By Alex Walker, Consumer Content Manager, Bree Nguyen, Partnerships Manager, and Mary Kate Banchero, Partnerships Associate