Update as of 8/7/13: Graph Search has now been launched to everyone using Facebook in US English.
Earlier this year we announced the initial beta of Graph Search, a new way to find people, photos, places and interests on Facebook. In the next few weeks, Graph Search will roll out more broadly to everyone who uses Facebook in US English.
Over the past few months, tens of millions of people have helped improve the product just by using it and giving feedback:
Speed: Graph Search is faster – both at suggesting potential searches and displaying results
Query understanding: Graph Search understands more ways of asking questions
Results: Graph Search does a better job at showing the most relevant results first
Interface: The search box is easier to see and use

Everyone using US English should start seeing their search box automatically updated.
This is just the beginning. We're currently working on making it easier for people to search and discover topics, including posts and comments. We're also working on getting mobile Graph Search ready.
Controlling what appears in Graph Search
As Graph Search rolls out more widely, everyone on Facebook will see a notice on their home page with a reminder about how to control what they share and with whom. This follows a similar notice in December that highlighted new privacy tools to help people manage what they share on Facebook.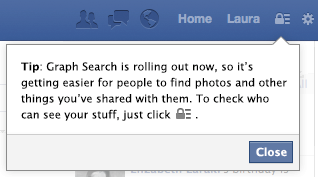 Graph Search results are personalized and unique for everyone, based on what has been shared with them. For example, if you search for "Photos of San Francisco," you'll see photos your friends took there and shared with you, as well as Public photos. This means if someone else does the same search, they're going to see different results because they have different friends, and different photos have been shared with them.
Additional Resources:
To learn more about Graph Search, go to www.facebook.com/graphsearch
To learn about Graph Search and privacy, go to www.facebook.com/about/graphsearch/privacy