Champions LeBron James and the Heat are blazing hot on Facebook.
By Alex Walker, Consumer Content Manager & Robert D'Onofrio, Data Editor
Miami didn't just burn it up on the hardwood. LeBron James and his teammates were also a scorcher on Facebook, where adoring Heat fans brought their team the biggest buzz during the 2013 #NBAFinals. People were watching the games and talking to their friends in real time throughout the entire championship series.
With more than 125 million Facebook interactions – posts, comments and likes – heading into Thursday night, rapt engagement was the name of the game for professional basketball's Big Dance. Fans, players, celebrities and NBA legends all joined the conversation, engaging with friends about their favorite (and least favorite) plays, sharing photos, and connecting on Facebook about memorable moments.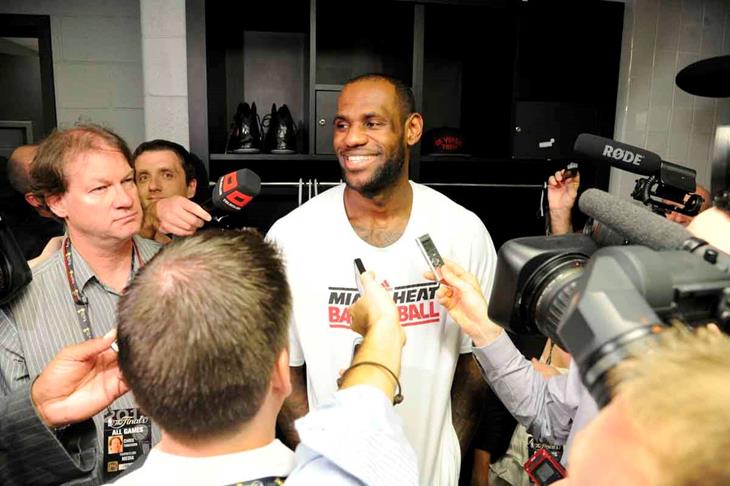 Miami's LeBron James had a hook shot over everyone else on the court, boasting a whopping 70% of all player buzz going into Game 7. James had eight times the number of mentions over San Antonio's Tony Parker, who was a distant second in Facebook chatter. Teammates Manu Ginobili and Tim Duncan came in third and fourth in the rankings, both with about 4% of the buzz. Miami guard, Ray Allen, rounded out the top five.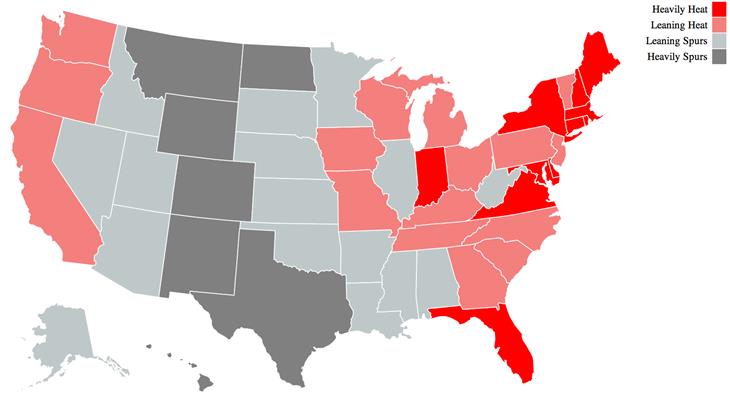 In fact, Miami was already the most popular NBA team on Facebook leading into the Finals, thanks to LeBron James. James is the most popular NBA player on Facebook, with more than 14 million fans and nearly 400,000 fans in Texas alone. That means he has more fans in the Spurs home state than San Antonio's five starters, plus teammate Manu Ginobili, combined.
Miami had more mentions than San Antonio across the U.S. as a whole, dominating states east of the Mississippi and the West Coast, as evidenced by the red and pinkish hues on the map. Taking a look at the dark-and-light grays, the Spurs managed to nail down Texas and a large swath up through the Great Plains.
As for most-talked-about moments, Facebook buzz spiked when Miami's Ray Allen hit one of the biggest shots of his career, sinking a huge three-pointer to force Game 6 into overtime. "Heat", "overtime", "Ray Allen" and even "shuttlesworth" – a reference to Allen's acting role in the basketball-themed movie "He Got Game" – all had huge increases when he nailed that shot. The terms "Ray Allen" and "shuttlesworth" spiked more than 200,000% and 300,000%, respectively.
Chatter about San Antonio's Tony Parker helped beef up the buzz about his team, especially after throwing a buzzer-beating, "circus shot" at the end of Game 1 to seal the win. Mentions of Parker's name were running low throughout that game, but spiked more than 8,000% after his 18-foot banker clinched it for the Spurs.
Teammate Manu Ginobili's 24-point performance in Game 5 was another most-talked-about moment. Fans were already buzzing about his retirement announcement, but when Ginobili came off the bench to hit his highest-scoring game of the season, Facebook chatter about the Argentinian native spiked to more than five times the normal baseline.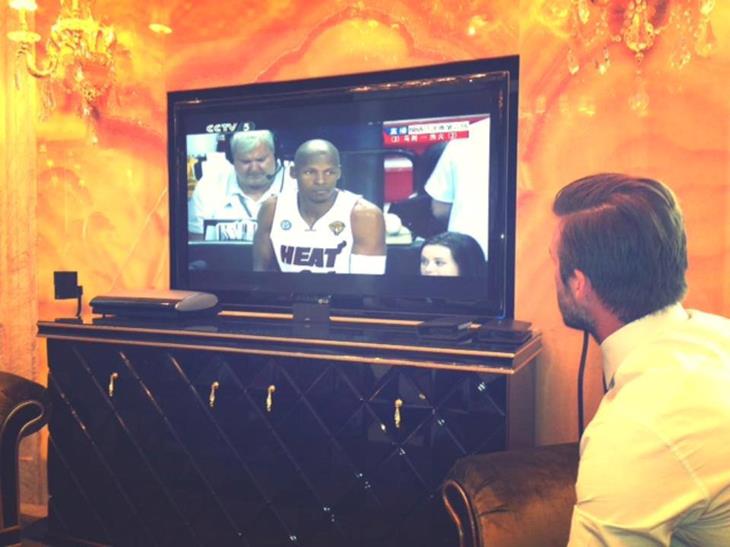 #NBAFinals fandom on Facebook included sports legends, music stars and Hollywood celebrities, who cheered on favorite teams, posting opinions and pictures to Facebook. Soccer star, David Beckham, posted a photo during Game 6, writing, "In Beijing, took a short time out to watch Heat vs. Spurs. What a game, incredible." NBA Rookie of the Year, Damian Lillard, also chimed in with the status update, "32 points, 11 assists, 10 rebounds…And a huuuuge win. But I bet I will see a lot of LeBron hate tonight." Actor and Texas native, Jamie Foxx, made his allegiance clear with the hashtag, #TexasPride.
The NBA brought in some star power for Q&A sessions on its Facebook Page throughout the entire series. ESPN analyst and former Pacers' player, Jalen Rose, chimed in during the first quarter of Game 2, offering his thoughts on Spurs' star, Tim Duncan. "Five titles in five appearances would easily cement his legacy as one of the top guys to ever play," he said in one reply. Current Pacers' player, Paul George, interacted with Facebook fans during Game 3. On defending LeBron James, George said, "It was tough. He's able to push the ball in transition, post up, and shoot the ball. That size and strength is a tough matchup for anybody."