By Fidji Simo
Over the past year, we have been gathering feedback from marketers about our ads products. One point we heard loud and clear is that we need to simplify our product offering. As the services we provide to marketers have grown, so have our new products; while each product may be good on its own, we realized that many of them accomplish the same goals.
So today we are pleased to announce an ongoing effort to simplify our offerings. When we work with a marketer, we always start with their business goals, and we are going to do the same thing with our ad products. Our vision is that over time, an advertiser can come to Facebook and tell us what they are trying to achieve, and our ads tools will automatically suggest the right combination of products to help them achieve it.
In the next six months, we plan to streamline the number of ad units from 27 to fewer than half of that while mapping all of our ads to the business objectives marketers care about — be it in-store sales, online conversions, app installs, etc. We have a few ways to accomplish this goal:
Eliminate redundancies. We noticed that many ad units accomplish the same goals, so we're cutting out these redundancies. This includes removing the Questions product for Pages because marketers can simply ask a question in a post and get answers in comments.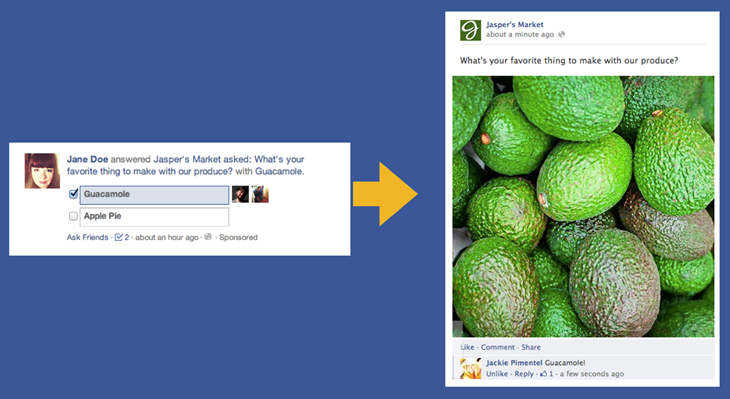 It also means removing the online Offer product because marketers have found that using a Page post link ad is a more effective way to drive people to deals on their websites. We're going to start making these changes in July.

Include the best of sponsored stories in all ads. Previously, to get the best social context available, advertisers had to purchase sponsored stories in addition to ads. In the future, for example, when you create a Page post photo ad, we will automatically add social context to boost performance and eliminate the extra step of creating sponsored stories. We know social enhances ad resonance; people are influenced by this type of word-of-mouth marketing. Research from Nielsen, comScore, and Datalogix shows that social context can drive awareness and return on ad spend, so we want to make it easier to add it to our ads. These changes will happen in the fall.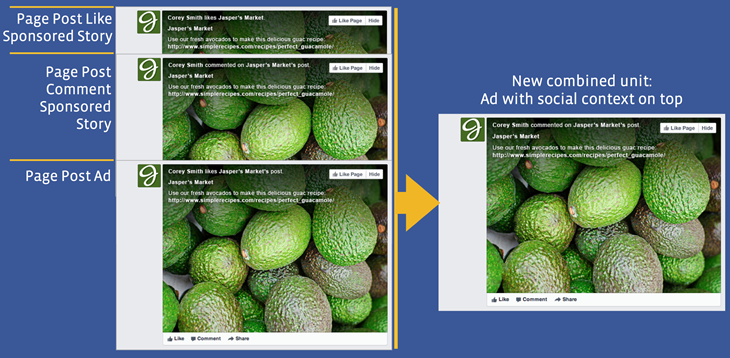 Make ad units look more consistent. We want to have a more consistent visual display of our ads across all marketer objectives and Facebook placements. This will reduce the number of ad formats and make the ad creation process much simpler for advertisers who run multiple campaigns or want to test which ad creative performs the best. We think this will ultimately help advertisers optimize their campaigns across desktop and mobile. A consistent look and feel to our ads will also be a better overall experience for people on Facebook. These changes will start happening in late June.

In the coming weeks and months, marketers will start to see these streamlined changes to our ads solutions. We think these updates will make it easier for them to do what they do best: reach the right groups of people with the right message and drive the results they care most about.