By Tom Alison and Adam Mosseri
Today we're introducing Home – a new way to turn your Android phone into a great, living, social phone.
We all want to share and connect. That's how we discover new information and build meaningful relationships. But today, phones are built around tasks and apps. To see what's happening with your friends, you pull out your phone and navigate through a series of separate apps.
We asked ourselves _if sharing and connecting are what matter most, what would your phone be like if it put your friends first?
Our answer is Home. Home isn't a phone or operating system, and it's also more than just an app. Home is a completely new experience that lets you see the world through people, not apps.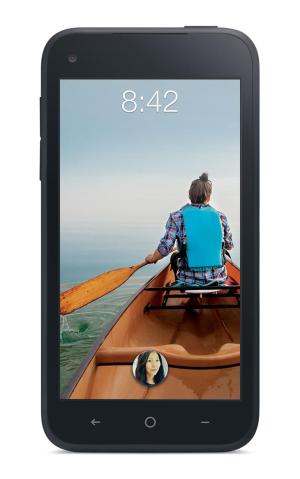 Cover feed
From the moment you wake up your phone you become immersed in cover feed. Cover feed replaces the lock screen and home screen. It's a window into what's happening with your friends – friends finishing a bike race, your family sharing a meal or an article about your favorite sports team. These are the beautiful, immersive experiences that you get through Home.
You might have missed these updates before, but now they're a central part of the Home experience. Since Home is both your lock screen and home screen, the content comes right to you. You can flip through to see more stories, and double tap to like what you see.
Cover feed is for those in-between moments _like waiting in line at the grocery store or between classes _when you want to see what's going on in your world.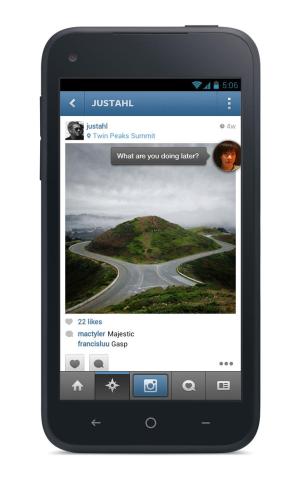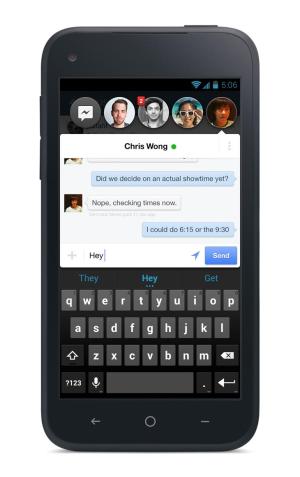 Chat heads
With chat heads you can keep chatting with friends even when you're using other apps. When friends send you messages, a chat head appears with your friend's face, so you see exactly who you're chatting with. Messages reach you no matter what you're doing – whether you're checking email, browsing the web, or listening to music.
You can move chat heads around and respond to messages. And since SMS is integrated into Facebook Messenger for Android, chat heads include Facebook messages as well as texts.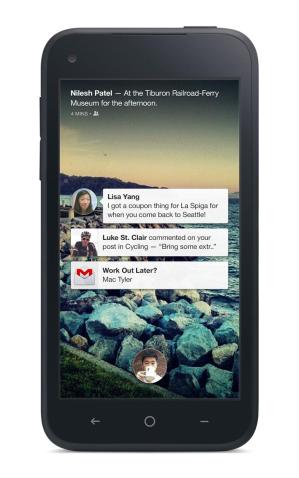 Notifications
Cover feed is great for seeing everything going on in the world. But when something happens that's more important and directed at you, like a friend posting on your timeline, you'll receive notifications with their profile pictures.
To open notifications, just tap them. And if you don't want to deal with them right now, you can just swipe to hide them and keep flipping through cover feed until you want them back.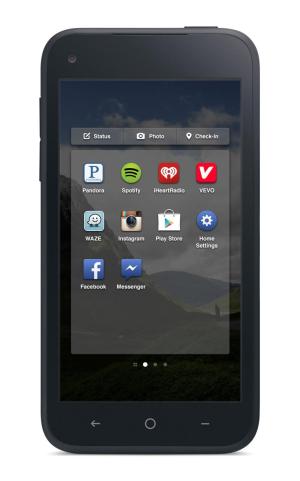 Apps
It's as easy to get to your apps in Home as it is on any other phone. Swipe up to see your favorite apps in the launcher. There's also a screen containing all of your apps, and you can drag your favorite apps to the launcher.
How To Get Home
Home will be available as a free download from the Google Play Store starting April 12. Home works on the HTC One X, HTC One X+, Samsung GALAXY S III and Samsung GALAXY Note II. Home will also work on the forthcoming HTC One and Samsung GALAXY S4, and on more devices in the coming months.
Home will also be available pre-installed on phones through the Facebook Home Program. HTC and AT&T are the first companies working together to deliver a phone with Home. It's called the HTC First and it goes on sale April 12.
We designed Home to be the next version of Facebook. But we also wanted to do something more. We wanted to reimagine the way we all use computing devices to make us more connected and bring us closer to the people we care about.
Download Home _and put your friends front and center on your phone.
Additional Media Resources:
To learn more about Home, go to http://www.facebook.com/home
To learn about partnering on the Facebook Home Program, go to http://www.facebook.com/home/partners
To learn more about Home and developers, click here.
To download our introductory video, click here.
For additional questions, visit Help Center.
FAQ:
What is Home?
Home is a whole new experience for your phone. It's software that turns your Android phone into a great, living, social phone.
How can I get Home?
You can download Home for free from the Play Store starting April 12, or purchase a phone with Home pre-installed. The first phone to come with Home is the HTC First, which goes on sale in the U.S. on April 12.
Where is Home available?
Home will initially be available for download in the U.S. on April 12, and will be available in other countries shortly after that.
What Android phones does Home work on?
Home is available on:
HTC First
HTC One (Future)
HTC One X
HTC One X+
Samsung GALAXY S III
Samsung GALAXY S4 (Future)
Samsung GALAXY Note II
How can I buy a phone with Home on it?
AT&T will offer the HTC First for sale on April 12.
Is Facebook building a phone?
No. Facebook Home is a software experience designed to run on Android devices.
Is Facebook home an operating system?
No. Facebook Home is a family of apps. You install them and they become the home of your phone.