By Allie Townsend, Facebook Editor & Betsy Cameron Williams, Facebook Data Analyst
This year, buzz about the Academy Awards reached an all-time high on Facebook. Hollywood's biggest night is inherently social, and from the announcement of this year's nominees, to the red carpet and the ceremony itself, people from around the world connected with fans, filmmakers and celebrities in record numbers, with 66.5 million Oscar-related interactions on Facebook.
Here is a deeper look at which films, people and moments shaped the conversation of the 2013 Oscar season.
The event scored a 7.17 on the Facebook Talk Meter, trumping last year's awards ceremony, and we saw the most buzz in the Northeast (New York, Massachusetts, New Jersey and Connecticut) followed by California.
"Oscars" received three times more mentions this year, while the Best Picture nominees racked up twenty times more mentions than 2012. "Les Miserables" had the most Likes of this year's top films, and despite being set in France, the film's largest body of fans are in London. It was also the favorite film among women and people ages 13 to 17.
Still, it was "Django Unchained" that racked up the most mentions among its peers, and was the clear Best Picture choice among men. Loyal fans of the film's director Quentin Tarantino, who picked up the award for Best Original Screenplay, were also likely to have Liked "Pulp Fiction" on Facebook.
While Steven Spielberg's "Lincoln" didn't take home the Best Picture prize, it was a favorite among people ages 45 and up and history buffs; people who Like the film on Facebook are also highly connected with The History Channel. The film's star Daniel Day-Lewis took home the trophy for Best Actor, and was the most-buzzed about actor in New York City and Los Angeles since his nomination was announced up to the show. His female counterpart, Best Actress Jennifer Lawrence, was the most-talked about nominated actress across the U.S. leading up to the awards, and was the front-runner among men on Facebook. Women favored "Zero Dark Thirty" actress Jessica Chastain.
Best Picture "Argo" was the most-talked about winner of the night. Mentions of the film increased by 2,460% and mentions of Ben Affleck increased by 23,500% as the director, star and producer made his acceptance speech. Affleck also launched his new Instagram account from the red carpet and shared behind-the-scenes photos throughout the night, including this one of his name being engraved on the Oscar trophy itself. (For more Oscar-related Instagram highlights, click here.)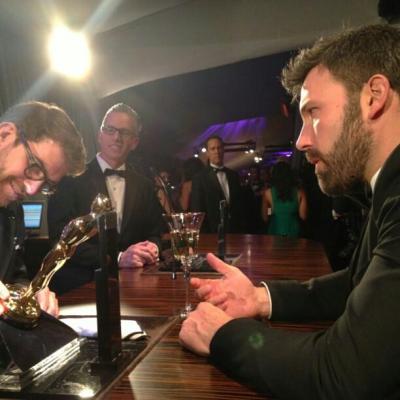 Other moments that had everyone talking were host Seth MacFarlane's impersonation of the Flying Nun, presenter Mark Wahlberg's appearance with talking teddy bear Ted, and a performance by Best Original Song winner Adele.