By Allie Townsend, Facebook Editor & Betsy Cameron Williams, Facebook Data Analyst
With millions of fans tuning into the game worldwide, the Super Bowl is one of the most popular events of the year – something that's increasingly evident on Facebook.
Last year's Super Bowl was the most talked-about sporting event of the year on Facebook and the second most-mentioned event of 2012, just behind November's presidential election. In 2012, Super Bowl Sunday also saw the second largest volume of posts in a single day on Facebook, just behind New Year's Day.
This year, a family rivalry, surprise halftime show appearance and major power glitch gave people even more to talk about during the matchup between the Baltimore Ravens and the San Francisco 49ers. We tallied mentions of keywords made in posts and comments throughout the game to see exactly which moments bubbled to the top, receiving the most talk on Facebook.
TOP MOMENTS OF SUPER BOWL XLVII
1. Ravens win the Super Bowl
2. Beyonce's halftime performance
3. Blackout in the Superdome
4. Jacoby Jones' 108-yard kickoff return for a Ravens touchdown (and Justin Tucker's field goal kick)
5. Joe Flacco's 56-yard pass to Jacoby Jones for a Ravens touchdown (and Justin Tucker's field goal kick)
6. Joe Flacco's 13-yard pass to Anquan Boldin for a Ravens touchdown (and Justin Tucker's field goal kick)
7. Frank Gore's six-yard run for a 49ers touchdown (and David Akers' field goal kick)
8. Destiny's Child surprise appearance with Beyonce during the half time show
9. Ray Lewis' retirement
10. David Akers' field goal kick from 27-yard line
HALFTIME SHOW
Beyonce's halftime show was the second most talked-about moment of the night. Mentions of "Beyonce" started to increase just before 8 PM ET. By 8:22 PM ET, mentions of her name had jumped nearly 49,000%. Destiny's Child's surprise appearance was the eighth most-discussed moment from the night; mentions of the group, as well as "Kelly" and "Michelle" all jumped over 10,000%. Fans kept track of Beyonce's setlist too, with tracks like "Crazy in Love," "Single Ladies," and "Halo" trending throughout the performance, followed by fans declaring Beyonce had "killed it" – a phrase which jumped more than 40,000% as she took her bow.
POWER OUTAGE
The most unexpected moment of the night also became one of the night's most unforgettable, making the blackout inside the Louisiana Superdome the third most talked-about moment of the game. The lights cut out just minutes after Beyonce's halftime show, inspiring posts about her "killing it" and "stealing all the electricity." Mentions of "lights" on Facebook jumped 66,000% around 8:37 PM ET, and discussion of the "blackout," "power," and the "outage" continued for the next several minutes.
MOST-MENTIONED PLAYERS
Here are the most-talked about players from the game, in order of total mentions they received:
1. Ray Lewis
2. Joe Flacco, named this year's Super Bowl MVP (Last year's Super Bowl MVP Eli Manning was one of the most talked about public figures on Facebook in 2012.)
3. Colin Kaepernick
4. Jacoby Jones
5. Torrey Smith
6. Vernon Davis
7. Michael Crabtree
8. Anquan Boldin
9. Frank Gore
10. David Akers
THE HARBAUGH BOWL
Even though his brother's team won the Super Bowl, San Francisco head coach Jim Harbaugh received 98% more overall mentions in posts and comments than Baltimore head coach John Harbaugh. Jim Harbaugh also saw a spike of 3,300% toward the end of the game, with the controversial no-call on potential pass interference that would have given the 49ers the lead with a just a few minutes left in the game. However, mentions of "John Harbaugh" jumped 13,300% in the first few minutes after the blackout.
Mentions of "Harbaugh" skyrocketed during the playoffs, increasing 1800% after the 49ers won the NFC championship and increasing by another 5600% after the Ravens secured the AFC title, making this year's NFL championship game a Harbaugh vs. Harbaugh Super Bowl.
While people who Like Jim Harbaugh on Facebook are also extremely likely to Like the 49ers, they're also fans of other Bay Area professional sports teams like the San Francisco Giants. On the opposing side, a high correlation of people who Like Baltimore coach John Harbaugh also Like the Raven's Facebook page, but are also much more likely to Like individual Ravens players.
BEHIND THE SCENES
Singer Alicia Keys took fans behind the scenes of the game's pre-show, posting photos and status updates to Facebook as she prepared to sing the National Anthem.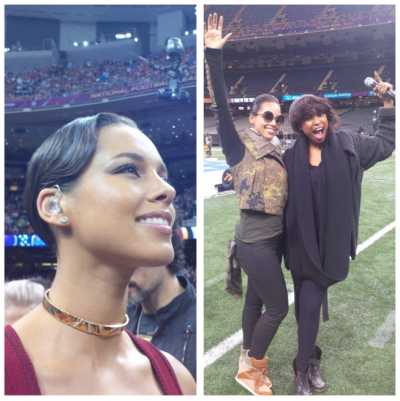 FANS BY THE NUMBERS
Of the 1.7 million people who Like the 49ers page on Facebook, 63% are male, 37% are female and 69% are under 34 years-old; all of the top 10 cities of San Francisco fans on Facebook are located in California, with the exception of Las Vegas.
Of the 1.4 million people who Like the Ravens page on Facebook, 66% are male, 34% are female and 78% are under 34 years-old. Aside from having a younger fan base, the Ravens also had a higher number of top cities outside of its home state. Washington D.C., Houston, Atlanta, Chicago and even Los Angeles all made the list of top 10 cities of Ravens fans on Facebook.
Still, the Super Bowl is a truly international event on Facebook; other countries buzzing about this year's game are Canada, Mexico, New Zealand, Austria and Australia.
MOST SHARED TERMS FROM THROUGHOUT THE GAME:
We checked to see which terms were gaining momentum before and at various points throughout the game.
As of 4:20 PM ET:
1. Super Bowl / Super Bowl Sunday / Happy Super Bowl
2. Game
3. Ravens / Go Ravens
4. 49ers / Niners / Go 49ers/Niners
5. Win
6. Team
7. Football
8. Fan
9. Lets Go
10. Ray Lewis
As of 7:35 PM ET:
1. Go Ravens
2. Super Bowl
3. 49er / Niners
4. Watching the Game
5. Let's Go
6. Ray
7. Commercials
8. Baltimore
9. Come On
10. Doritos
As of 8:15 PM ET:
1. Beyonce
2. Half Time Show
3. Best Performance
4. Destiny's Child
5. Kelly
6. Michelle
7. Killed It
8. Wardrobe Malfunction
9. Stage
10. Second Half
As of 10:20 PM ET:
1. 49ers
2. Let's Go
3. Come On
4. We Got a Game
5. A Farmer
5. Budweiser
6. Momentum
7. Comeback
8. Clydesdale
9. Tide
10. Paul Harvey
As of 11:00 PM ET:
1. Ravens
2. They Won
3. Team
4. Next Year
5. Baltimore
6. Congrats
7. Good Game
8. Close
9. Season
10. Baseball
METHODOLOGY
We anonymously aggregated mentions of keywords made in posts and comments throughout the game. For overall rankings, we sorted by overall mentions to see which players and moments bubbled to the top. For percent increases of specific terms, we compared the number of mentions made at the peak of the term and compared that to the average number of baseline mentions made, prior to the game.