Over the past several years, we've been working to improve Facebook Messenger on mobile and Facebook Messages on the web:
One ongoing conversation
Now all your messages, emails, chat and text messages are combined together in one ongoing conversation, whether they're sent from mobile or desktop.
The Other folder
In 2010 we introduced the Other folder, where less relevant messages go.
Messenger for Android
This month, we introduced a way to sign up for Messenger with just your name and phone number.
New filters for managing your Inbox
We've heard that messages people care about may not always be delivered or may go unseen in the Other folder.
As we announced last month, we're replacing the "Who can send me Facebook Messages" setting with up-front filters that help to address this feedback.
There are two options for new Inbox filtering:
Basic Filtering
If you select Basic Filtering, you'll see mostly messages from friends and people you may know (for example, friends of friends) in your Inbox. People who had the previous setting set to "friends of friends" or "everyone" will have Basic Filtering on.
Strict Filtering
If you select Strict Filtering, you'll see mostly messages from friends in your Inbox. People who had the previous setting set to "friends" will have "Strict Filtering" on.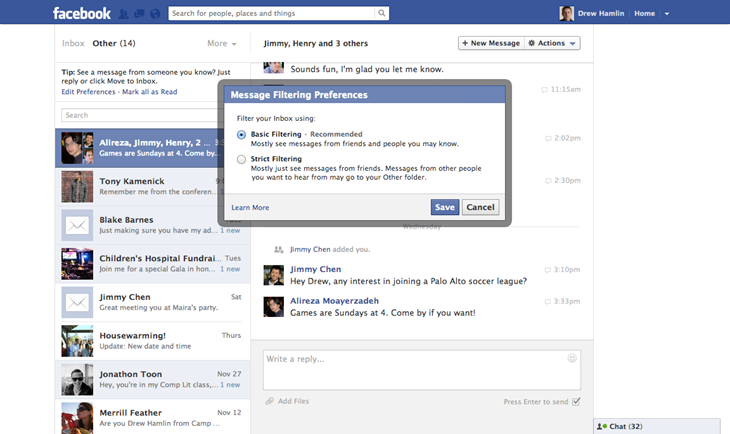 With filters, the following types of messages may reach your Inbox that before would not:
Someone using Messenger for Android, who is not on Facebook but has your contact info in their phone, wanted to send you a message

A friend of a friend wanted to include you in a message about a party along with some of your mutual friends

A friend wanted to send a message to your @facebook.com address
If you see a message from someone you don't want to hear from in your Inbox, you can always select "Move to Other" or "Report Spam" from the Actions menu. You can also block people that you don't want to hear from on Facebook.
Inbox delivery test
Facebook Messages is designed to get the most relevant messages into your Inbox and put less relevant messages into your Other folder. We rely on signals about the message to achieve this goal.
Some of these signals are social – we use social signals such as friend connections to determine whether a message is likely to be one you want to see in your Inbox.
Some of these signals are algorithmic – we use algorithms to identify spam and use broader signals from the social graph, such as friend of friend connections or people you may know, to help determine relevance.
Today we're starting a small experiment to test the usefulness of economic signals to determine relevance. This test will give a small number of people the option to pay to have a message routed to the Inbox rather than the Other folder of a recipient that they are not connected with.
Several commentators and researchers have noted that imposing a financial cost on the sender may be the most effective way to discourage unwanted messages and facilitate delivery of messages that are relevant and useful.
This test is designed to address situations where neither social nor algorithmic signals are sufficient. For example, if you want to send a message to someone you heard speak at an event but are not friends with, or if you want to message someone about a job opportunity, you can use this feature to reach their Inbox. For the receiver, this test allows them to hear from people who have an important message to send them.
This message routing feature is only for personal messages between individuals in the U.S. In this test, the number of messages a person can have routed from their Other folder to their Inbox will be limited to a maximum of one per week.
We'll continue to iterate and evolve Facebook Messages over the coming months.