Today we're releasing Facebook's Year in Review, a look back at the people, moments and things that created the most buzz in 2012 among the billion people around the world on Facebook.
We took the pulse of the global community on Facebook in 2012 to assemble a series of trend lists, chronicling the top events, the most popular public figures, the most listened to songs on Facebook and more. These lists are available on Facebook Stories at FacebookStories.com/2012.
Additionally, you can access your own Year in Review on timeline. By going to Facebook.com/yearinreview, you can see the 20 biggest moments from your own year, including life events, highlighted posts and your most popular stories.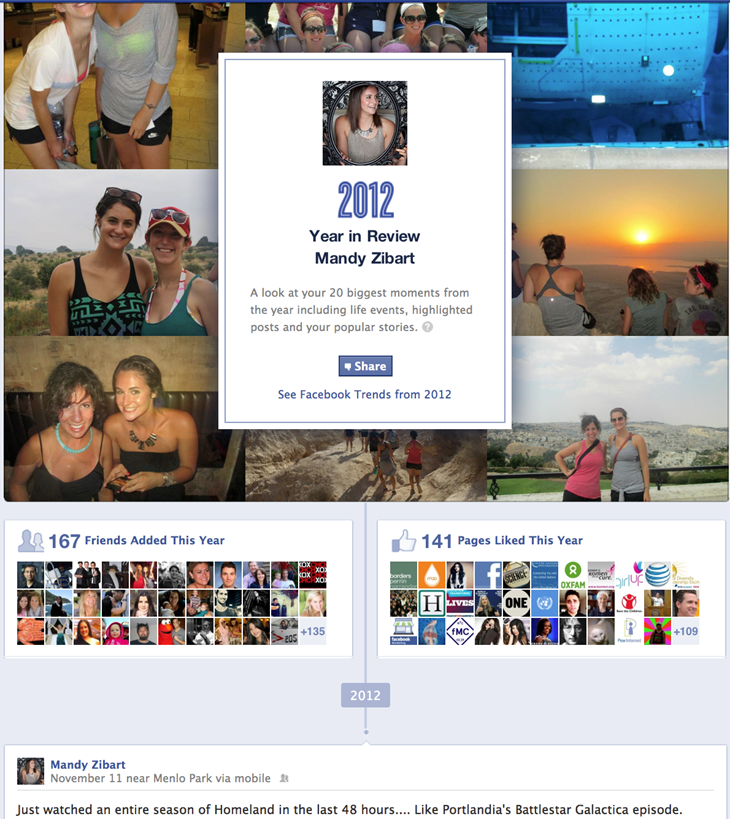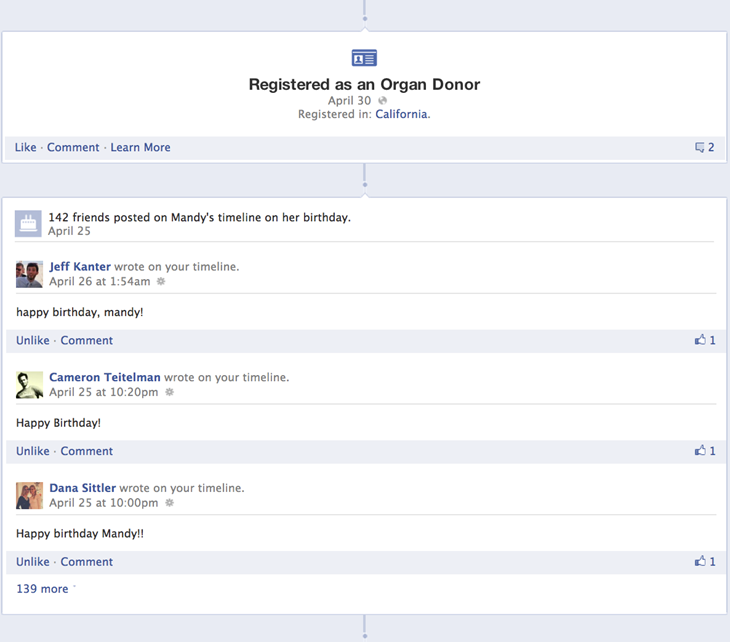 2012 Trends – US
Events
US Presidential Election
Superbowl XLVI
Death of Whitney Houston
Superstorm Sandy
London 2012 Olympics
Death of Trayvon Martin
Facebook IPO
Aurora Shootings
Death of Dick Clark
Obama's Endorsement of Gay Marriage
Songs
We Are Young (feat. Janelle Monáe) – Fun
Somebody That I Used to Know – Gotye
Call Me Maybe – Carly Rae Jepsen
What Makes You Beautiful – One Direction
Payphone – Maroon 5
Mercy – Kanye West
Some Nights – Fun
Home – Phillip Phillips
Boyfriend – Justin Bieber
Take Care (feat. Rihanna) – Drake
Movies
The Hunger Games
The Avengers
Magic Mike
The Vow
Twilight Saga: Breaking Dawn Part 2
21 Jump Street
The Dark Knight Rises
Dr. Seuss' The Lorax
Skyfall
Prometheus
Check-Ins
Times Square, New York
Disneyland, California
AT&T Park, California
Yankee Stadium, New York
Rangers Ballpark, Texas
Fenway Park, Massachusetts
Dodger Stadium, California
Universal Studios, Florida
Wrigley Field, Illinois
Angel Stadium, California
Public Figures
Barack Obama
Mitt Romney
One Direction
Tim Tebow
Eli Manning and Peyton Manning (tie)
Madonna
Honey Boo Boo
Jeremy Lin
Paul Ryan
Phillip Phillips
Books
The Hunger Games (The Hunger Games, #1) – Suzanne Collins
Catching Fire (The Hunger Games, #2) – Suzanne Collins
Mockingjay (The Hunger Games, #3) – Suzanne Collins
Fifty Shades of Grey (Fifty Shades, #1) -E.L. James
Harry Potter and the Sorcerer's Stone (Harry Potter, #1) – J.K. Rowling
The Help – Kathryn Stockett
Twilight (Twilight, #1) – Stephenie Meyer
To Kill a Mockingbird – Harper Lee
The Great Gatsby – F. Scott Fitzgerald
Water for Elephants – Sara Gruen
Technology
Instagram
Timeline
Pinterest
Draw Something
iPhone 5
Kindle Fire
SOPA
News Feed
Siri
SongPop
Politics
Barack Obama
Mitt Romney
Voted
Four More Years
Paul Ryan
Rick Santorum
Gay Marriage
Obamacare
The Polls
DNC
Television
Duck Dynasty
Honey Boo Boo
Big Bang Theory
Game of Thrones
Downton Abbey
Breaking Amish
Ink Master
Long Island Medium
Wife Swap
Two Broke Girls
Sports
NY Giants
New England Patriots
Tim Tebow
London 2012 Olympics
OKC (Oklahoma City Thunder)
Denver Broncos
San Francisco 49ers
Eli and Peyton Manning
Jeremy Lin
Los Angeles Clippers
Memes
TBH (to be honest)
YOLO (you only live once)
KONY
One-word Comment
Gangnam Style
Cinnamon Challenge
Cray
SMH (shake my head)
Big Bird
Linsanity