By Eric Faller, software engineer
Lists on Facebook are a great way to organize your friends and focus on the people who matter most. Starting today, you also have interest lists—a whole new way to keep up with stuff you care about and tidy up your experience on Facebook.
Interest lists can help you turn Facebook into your own personalized newspaper, with special sections—or feeds—for topics that matter to you. You can find traditional news sections like Business, Sports and Style or get much more personalized—like Tech News, NBA Players, and Art Critics.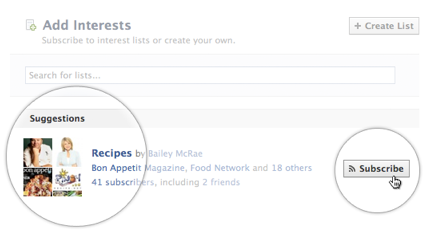 Interests feature public figures and Pages related to a particular topic, and are put together by people like you. The top stories from each interest appear in your news feed so you can scan interesting headlines or click through to read more posts.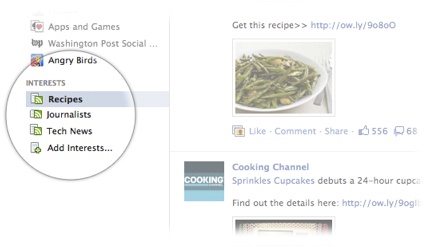 In the coming weeks, you'll see the Add Interests link in your left-hand bookmarks. When you do, you can subscribe to lists on almost any topic. For example:
If you love football, subscribe to the NFL Teams interest list for a gridiron-focused feed. No need to check on each team in the NFL, your favorite athletes' profiles, and ESPN.
If you're into politics, subscribe to the 2012 US Presidential Candidates interest list to see updates from all the campaigns, or get posts from major newsoutlets like CNN, Fox, MSNBC, and the Wall Street Journal.
Don't see a list for one of your interests? Make your own lists to organize your favorite content or help others discover new topics. Just go to the Interests page, and click Create List. Choose to let others subscribe to your new list, or keep it private.